Touessrok Luxury villas in Mauritius
Discover The Touessrok Villas

Touessrok Villas
Luxury in its purest in these villas three bedrooms, with private pool and garden with separate entrance ... The villas have been designed as a modern interpretation of authentic Mauritian style.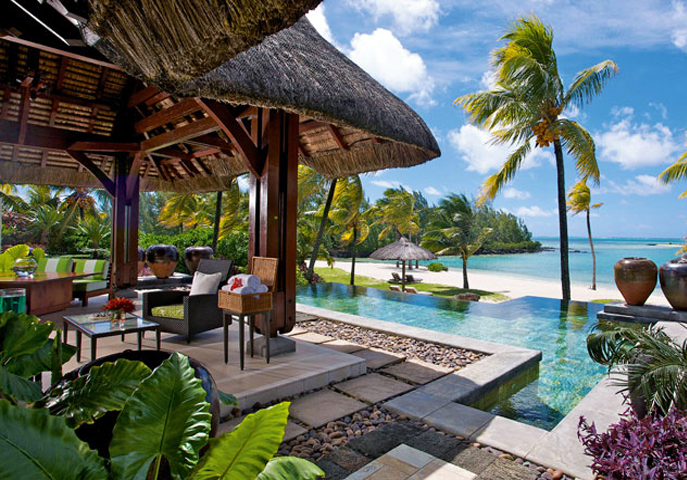 Privacy and pleasure
Le Touessrok is the chic and romantic resort on the east coast of Mauritius, 50 minutes from the airport and the capital Port Louis. It features wonderful restaurants and bars, beaches and pools, Givenchy Spa, Peter Burwash tennis and fantastic facilities for children.
The resort is on Trou d'Eau Douce bay and includes Ile aux Cerfs, with its water-sports centre and Bernhard Langer championship Golf Course, and Ilot Mangénie, an island retreat exclusive to guests. Both are a short ride away by private boat.
The three private Le Touessrok Villas offer guests a totally discreet stay, while using the facilities of the resort as they please. They have their own swimming pools, gardens and separate entrances.
Each Villa has a chef and team of waiting staff. A personal manager makes sure the Villa is run exactly according to guests' needs, tastes and wishes. Everything can be taken care of – arranging a home treatment by Givenchy Spa, a dinner at Safran, a complimentary round of golf, or accompanying guests on shopping trips.
Tropical chic
The three villas are all designed and finished in cool, contemporary interpretations of Mauritian style. Each has its own individuality – with distinctive finishes, pool, garden and terrace.
Private pathways lead up to carved wooden entrances. Inside, all is space and elegance with each Villa at over 430 square metres. Tall windows and terrace doors lead out to fragrant blooms and coconut palm, the calm and graceful infinity pool, the thatch pavilion for relaxing or informal dining – all framed by the sky and wide blue Indian Ocean.
Each Villa has two master king bedrooms, with a third double queen bedroom behind. The large and light space of the master bathrooms, with their sculptured stone bathtubs, lead out to private walled gardens with outdoor waterfall showers and daybeds. There are twin vanity basins and spacious dressing facilities. Queen double bedrooms also have their own bathroom and terrace. The living areas are light and spacious, with high, vaulted wood ceilings. All the detail is well crafted and true to the spirit of the tropics. The elegant dining room is perfect for formal occasions, while the outside pavilion offers a more casual, intimate dining experience.
Maximum occupancy is either six adults, four adults and four children or two adults and six children.
Space and facilities
Villa plan
A Living/dining room 60m²
B Master bedrooms (2) 30m²
C Double Queen bedroom 28m²
D Master bathrooms (2) 21m²
E Queen bathroom 8.5m²
F Terrace/Veranda 24.5m²
G Timber decks 12.5m²
H Pool 50m²
I Pavilion 16m²
Overall Villa 451m²
Comprehensive services
The Villas are fully air-conditioned. In-room entertainment systems feature multi-lingual satellite TV, four movie channels, DVD/CD player and wide selection of digital movies, discs and PC games.
Communications and business services include Wi-Fi internet/email access, fax/ computer hook-up, modem phone jack, three-phone two-line communication system, and computers available upon request. 24-hour personal manager service.
oversees daily activities such as Villa dining, bath menus and fresh fruit of choice delivered daily. Every little luxury and amenity has been thought of, from the Nespresso coffee machines and hairdryers to the safe deposit boxes. All the special wishes of guests are met.