Discover the best activities in Mauritius Island

Mauritius Leisure
Leisure in Mauritius - Golf, Water Sports, Walk with Lions, Swim with Dolphins, Skydiving and Hunting are some of the activities you can enjoy during your trip to Mauritius.
Golf Courses in Mauritius

Mauritius has many 18 Hole golf courses and 9 hole golf courses spread across the island. Many of these signature golf courses in Mauritius have been designed by renowned golf course designers like Rodney Wright, Peter Allis and golfing greats like Gary Player, Hugh Baiocchi. Several hotels and resorts in Mauritius have excellent golf courses. Golf courses in Mauritius have certified instructors and golf pros to attend to the avid golfers needs including golf clinics and private golf lessons. Golf balls, golf clubs , caddies and golf carts can be hired. So if you are an avid golfer or a green horn planning to start golf, Mauritius is the ideal destination offering you the perfect blend of Sun, Sea & Golf.
Water Sports in Mauritius

Water Sports in Mauritius

Surrounded by the aquamarine waters of the Indian ocean Mauritius offers you the perfect locale for Water Sports and water activities of all genres and types. In Mauritius the water sports menu includes Banana boat rides, Para sailing , windsurfing, jet skiing, surfing, sailing, canoeing, Deep sea fishing , scuba diving, snorkeling , under sea walks, under water scooters to mini submarines. The water sports options in Mauritius are numerous. Water sports Enthusiasts can have their fill of water sports activity in Mauritius.The Blue Safari Submarine and the Blue Safari Sub Scooters or submarine scooters let you explore the depths of ocean and enjoy the colourful marine and undersea life. The Undersea Walk in Mauritius offers you a more intimate encounter with your undersea buddies and is a once in a lifetime experience,a must do for all visitors visiting Mauritius.
Walk with the Lions in Mauritius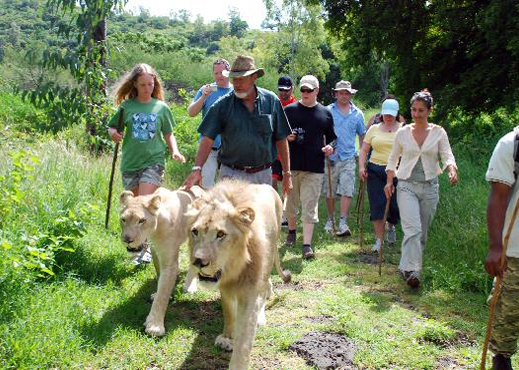 Safari Adventures is proud to introduce the first walking with lions and interaction with cheetahs in Mauritius to both local and international citizens. And, we now target at eventually bringing in other strong mammals like elephant, tigers, wolves and optimistically leopards soon on the Mauritian scene
Skydiving Mauritius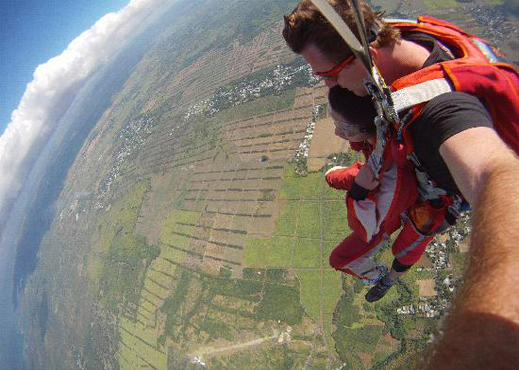 Mauritius Tandem Skydiving
Experience skydiving in Mauritius, A Skydiving Adrenaline Pumping Adventure at its absolute best!
You will get to experience a 10,000ft skydive in Mauritius paradise island. Enjoy Mauritius' most spectacular scenic flight and the most visually awesome Tandem Skydive you can ever imagine. The flight before the jump offers a complete 360º birds eye view of Mauritius's awesome coastal, inland and mountain scenery. When reaching 10,000 feet, the aircraft door will open, and you will get to tandem skydive Harnessed to an experienced qualified Instructor. Then, in the open air you will experience flying free falling for about a minute reaching a speed of 200 Km/hour, before the instructor will open the canopy and you will get to slide down in air for about 5 minutes, seeing the beautiful surrounding on your way down until the safe landing. The take off is done from the magnificent Sugar Fields of Mon Loisir, with views of Mauritius stunning lagoons and reefs stretching far into the Indian Ocean.
Swim with Dolphins in the Tamarin bay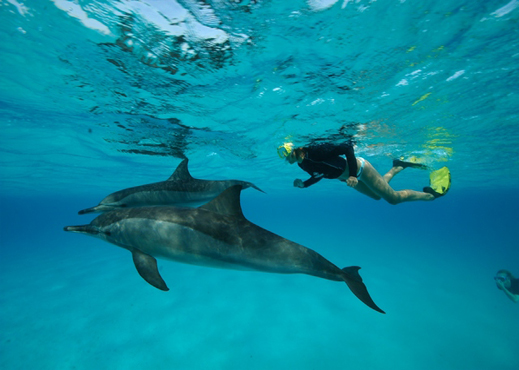 Swim alongside the Spinners Dolphins of Tamarin Bay and experience these extraordinary mammals in a truly unique setting. This excursion is about observing these mammals within their natural habitat.
Hunting in Mauritius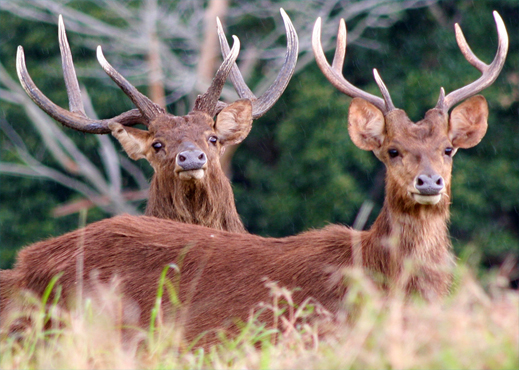 Le Domaine des 7 Vallées hunting reserve is situated at Nouvelle France on the central plateau of Mauritius. More than 2500 deer and wild boars live freely on 4000 hectares of the forest. The Mauritian deer (Cervus Timorensis Russa) were introduced on the island in 1639 by the Dutch.
As for the wild boars, historians are not that sure, but they think that it was the Portuguese who at the beginning of the 16th century introduced the wild pigs.
Stalk hunting is one of the hunting methods the more commonly used, but we can also organize hunting in small mobile groups, posted on the matadors (Posts of observation).
The Domaine will supply you with the ammunition and the rifles (Tikka, Mannlicher, and Sako & Savage); all equipped with Schmidt & Bender telescopic sights. The hunters will be taken in charge by the experimented guides who will provide the necessary security elements and the smooth running of the hunt.
It is highly recommended to be equipped with good walking shoes and wear dark clothes (avoid wearing colorful clothes, especially white ones).
Diving in Mauritius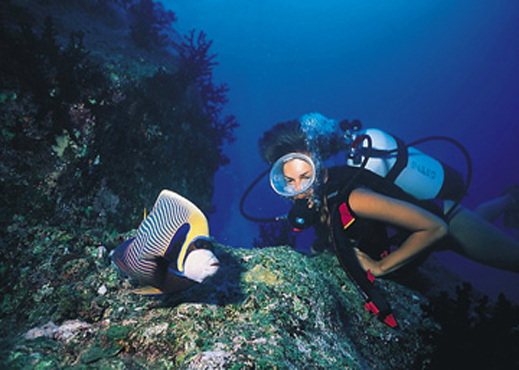 Attractive dive sites can be found all around the island. ( not just exclusively behind the coral reefs) The diving conditions vary around the island for example the east coast is colder both on land and inside the water.
The East coast however has some of the best diving sites of the island. The island of the North offer particluarly surprising and attractive diving sites. Mauritius underwater is a rich and complexe ecosystem well preserved that will leave you speechless after a diving session.
Big Game Fishing Mauritius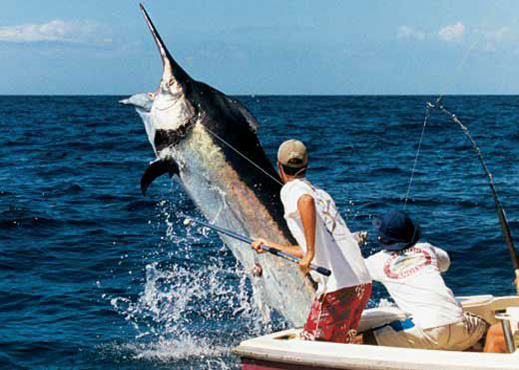 Mauritius is known worldwide for its' Big Game Fishing, lots of IGFA record fish have been caught here and every season many large fish account for the biggest caught in the world. Depending on the time of year it is possible to catch Blue or Black Marlin , Sailfish , Wahoo , Yellow fin Tuna , Giant Trevally , Dogtooth Tuna , Bonito , Dolphinfish, Sharks and many more. In addition to having many types of fish that are not readily available in other areas, Mauritius also has varieties of fish like Bonito and Dorado, that are popular in many other locations, but are much bigger in Mauritius. A Mako shark that weighed in at 1115 pounds is a nice example of Mauritius' abundance of big fish! Deep-sea fishing is a spectacular experience in Mauritius any time of the year making it one of the most ideal places for deep-sea fishing in the world. Are you still not convinced? If fishing for tuna could appeal to you, you might be interested in knowing that Mauritius has claimed Yellow Tail tuna and white tuna of well over two hundred pounds each! If you enjoy fishing at all, there is no way that you will not be impressed by Mauritius's history of world records.
Kite Surfing in Mauritius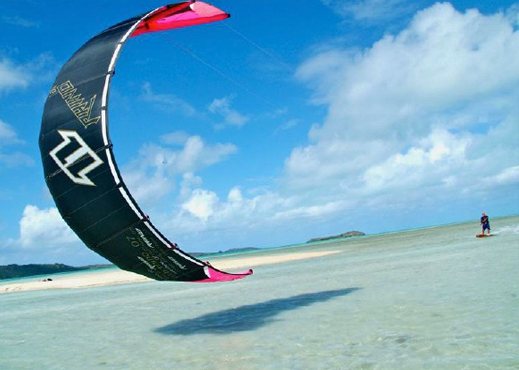 Kite surf in Mauritius is a popular tourist attraction. It's a combination of kite flying, surfing along with wake boarding . It has acquired large popularity and is considerably liked by people loving adventures. At the moment there are eight recorded kite surfing rentals & training schools.In Mauritius Kite surfing is the best place to enjoy Mauritius beauty  in addition to experiencing water sport thrills. Actually, Mauritius is world's most most-valuable place for kite surfers.
Rock climbing in Mauritius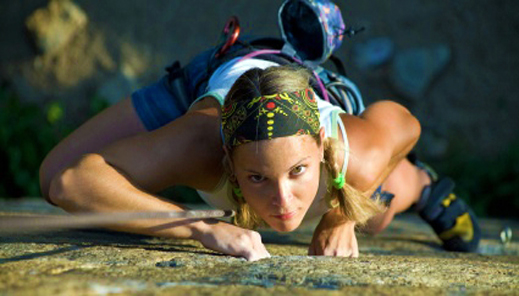 Rock climbing on the South West coast of Mauritius. You will get to experience rock climbing in a beautiful setting Of the Belle Vue Cliffs, where the caves of "La Pointe aux Caves" are nestled and in close proximity from the famous lighthouse of Albion. This a great outdoor sport where you will learn the basic techniques of knots, safe climbing and rock progression from Mauritius' top professional guides. As part of rock climbing excursion you will be trained on some breathing exercises to maximize climbing performance over rock faces and cliffs
Canyoning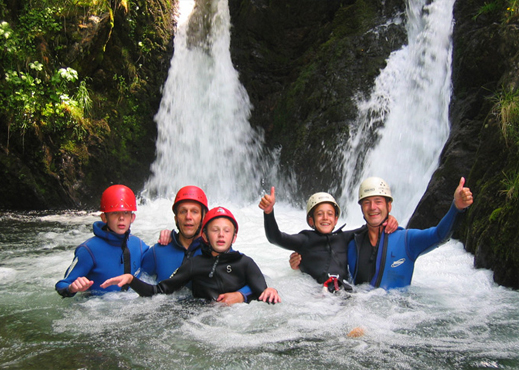 For those seeking more adrenalin and thrill, canyoning is your ideal excursion, which challenges you to abseil down the steep walls of the canyons using nature watercourses and canyoning gear. The canyoning is offered in few locations in Mauritius. The canyoning (known also as canyoneering) in Mauritius consists of travelling in canyons using a variety of techniques that may include walking, climbing, jumping, abseiling, and/or swimming.