Property for sale in Mauritius Alamanda Garden
Discover Alamanda Garden

Alamanda Garden RES project in Mauritius
Located on the northwest coast of Mauritius, Alamanda Garden RES (Real Estate Scheme)
Alamanda Garden covers 20 hectares, seafront project, 80% green space.

The property offers:

171 prestigious villas with 2 to 4 bedrooms, each with its garden and private pool.
A residential complex comprising 123 apartments including studios, apartments with 2 and 3 bedroom apartments and penthouses with 3 and 4 bedrooms.
56 duplexes 3 and 4 bedrooms with ground floor private garden. The majority of apartments and duplexes offer a sea view.
Common spaces that house shops, a fitness center and underground parking.
The village Alamanda Garden will offer shopping areas, fitness center and parking in the basement, pool of 1200 m 2 and a unique panoramic restaurant in Mauritius peaking at 18 m above the ground and offering stunning views of the sea and the islands of the North.
The buildings occupy only 20% of the total area of the property. The rest is spread in vast gardens to offer residents a landscaped park. There is also a golf driving range, a jogging track, tennis courts and an activity centre for children and teenagers.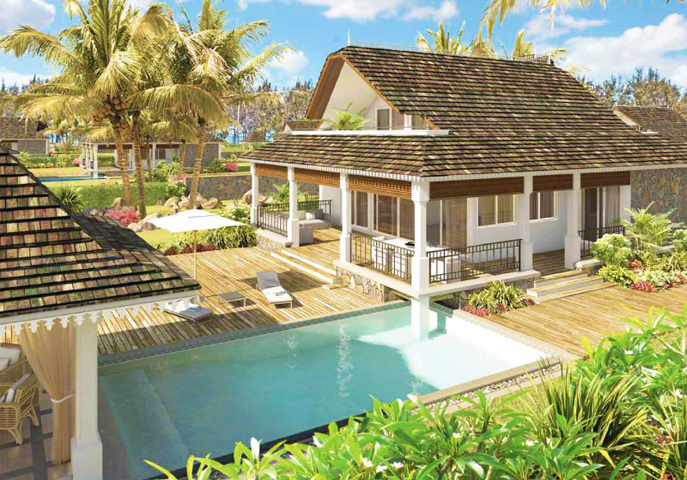 Activities
The Alamanda Garden complex offers all types of activities for young and old and includes:
• 360◦ degrees panoramic restaurant 18 meters high
• 1200 m2 swimming pool
• Golf practice
• Health track
• Tennis courts
• Nautical centre
• Gym club
• Spa/Turkish bath
• Various shops
Not too far from the complex, you can find:
• A 9-hole golf course
• Casino and night clubs
• Restaurants and bars
• A shopping center with over 100 shops, restaurants and cinema
• Offshore activities such as Catamaran cruises, big game fishing, scuba diving, etc.)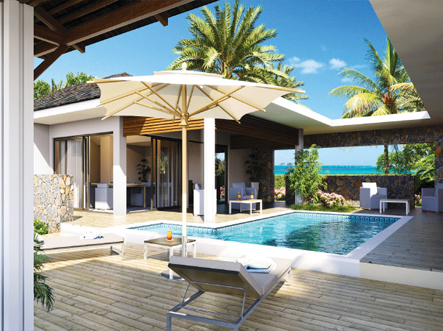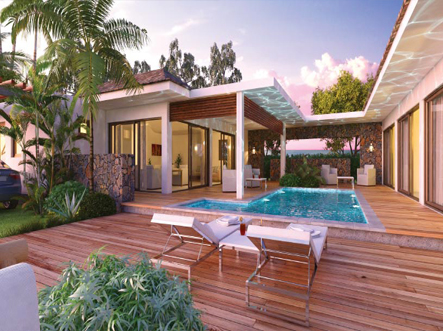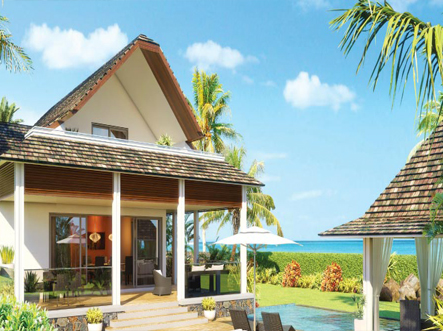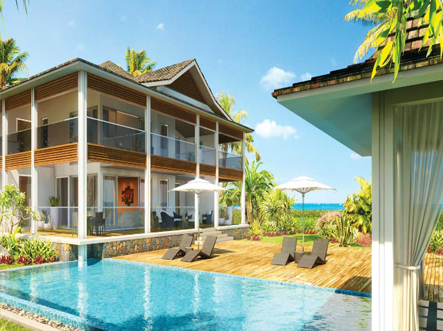 Residential offer
Among the 171 Villas from the residential complex it is possible to choose out of the following: 
A 4 bedroom villa of 440 m² on plot of 700 to 1500m ²

A 4 bedroom villa of 290 m² on plot of 700 to 1000 m²

A 3 bedroom villa of 265m ² on plot of 500 to 690 m2

A 3 bedroom villa of 223 m2 on plot of 370 to 690 m²

A 2 bedroom villa of 162 m² on plot of 320 to 680 m²

The apartments are offered as follows: 
Studio: 40 m²

2-room apartment: 70 m²

3-room apartment: 93 m²

4-room apartments: 115 m²

Penthouse 2 Rooms: 93 m²

Penthouse 3 Rooms: 163 m²

Penthouse 4 Rooms: 234 m²

Duplex 3 rooms:  110 m²

Duplex 4 rooms:  128 m²
Additional Services
A property management service will ensure the owners wishing to manage their property in their absence in order to maintain and improve their incomes.