Walking with lions in Mauritius island
Discover the big cats adventure in Mauritius

Discover the wild side of Mauritius Island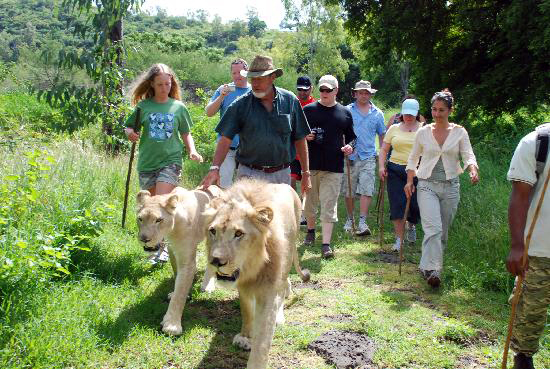 Walk with lions in Mauritius after a briefing, the lions roam freely amongst the participants giving them the unique opportunity of being in close contact with them.

During the activity, they will witness how they climb on trees, play together in streams and in high grass, move around and even stalk one of the various animal found in the reserve. With over 3 generations of lion handling, the guides are there, not only to ensure you feel at ease with the lions but also to share their experience and facts about these felines.After the walk, refreshment is offered and explanations about the reproduction and conservation program will be provided. Don't leave the park without your certificate because, walking with lions, is a rare amazing experience you may never witness again.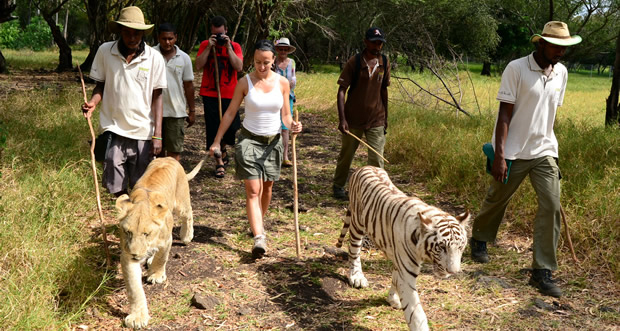 Safari Adventures Mauritius brings to you the first "Lion Encounter" on the island. This exclusive activity is available all year at the Casela Nature & Leisure Park, Mauritius.

This is a unique opportunity available only to the people who are fortunate enough to decide to visit the park at least once in their lifetime. They may feel and study the primitive behaviour of the lions, cheetah and tigers and share their "Pride" of being in their natural state.

All these thrilling sensations are brought to you by a more than an experienced team with over three generations in the area of lion handling, training and expertise. We have conducted thousands of walks and interactions over the years. Safari Adventures offers you the safest Big Cat Encounter, a world leader in any Lion, Tiger and Cheetah encounter, and is second to none. Big Cat Encounters includes the exclusive Walking with Lion Experience, Walking with Tigers and the ever-popular Interaction with the Cats.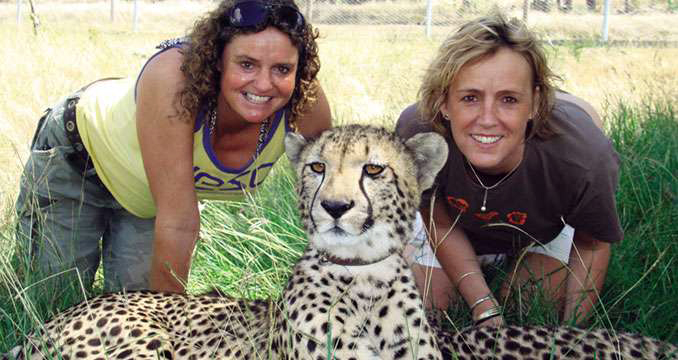 The 'Walk with Lions' is becoming well known and a much appreciated activity for visitors and Mauritians alike. In the commentaries written in our visitors' book after the walks we read words like '… This has been the highlight of our trip…', and again 'A once in a lifetime experience, unbelievable!', 'fantastic to see such beautiful creatures so close!', '…never thought I'd be able to touch a lion'…

Walks are carried out daily during the early mornings and late afternoons as these are the cooler parts of the day. The walk takes place on the banks of Rivière du Rempart, which forms part of the 1000 acre of the estate. Upon your arrival, the Safari Adventures team will brief you with a short introductory chat on the cats and a few words about the safety measures which will be employed during the outing. You will then be introduced to the cats and their handlers and it is from this moment that the adventure begins! A very popular combination is to take a lion for a walk followed by an interaction with the cheetah and/or the tiger.

Walk with Lions: daily at 9:00, 10:30, 14:00, 15:30.

(Please make sure you arrive at the park at least 30 min before your walking departure time.)

What to expect:

The walk is conducted over 45 minutes to 1 hour in time along the Rivière du Rempart and you will be accompanied by professional guides. This popular activity is followed by refreshments and bookings in advance are strongly recommended. The groups for the walks are made up of up to 12 people. It is a pretty gentle walk but we do recommend that you wear comfortable shoes. Bring along some mosquito repellent, sun cream, hat and don't forget your camera!

DVD and CD available for purchase after your activity (optional).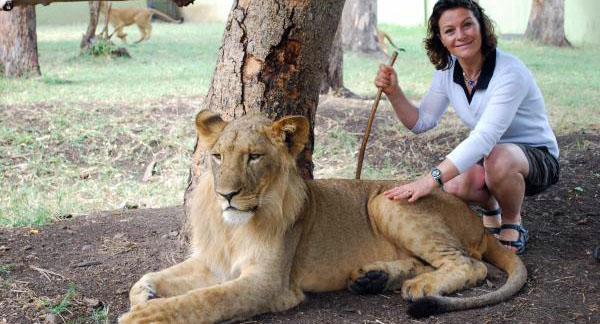 Exclusive Walks
We also offer for our more affluent couples the opportunity to take their walk on the wild side with lions and/or tigers in private. This is particularly popular amongst the many honeymooners of Mauritius. You will be accompanied by a personal guide. Your exclusivity also includes an interaction with one of our other Big Cats.  You will also receive a complimentary DVD of your experience. Light refreshments are served after your activity.
Age Restrictions
The Big Cat Adventures does not base itself solely on actual age but on a height chart of which the minimum height requirement is above 1.5 metres and/or the age of 15 in the case of minors.
Anyone shorter than this will not be permitted to participate in the walk or interaction.
The management decision is final.
Health Requirements
Please confirm that all people all people that have booked to either walk or interact with the big cats should not be suffering from any disabilities either mentally or physical. That they have no major hearing or visual impairments. If any of the above is found incorrect on the day of your activity "NO" refund will be considered. These rules are for your safety.