Undersea walk in Mauritius Island
Discover Undersea walk in Mauritius Island

Discover Undersea walk in Mauritius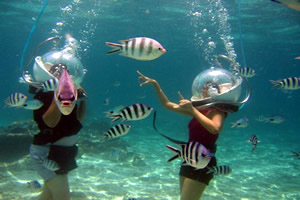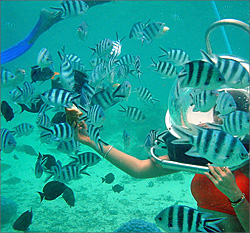 The Undersea walk in Mauritius is an attraction located at Grand Bay a small but beautiful village in the north of the island. The undersea walk attraction is suitable for people from 7 years old and above regardless of whether you are an experienced swimmer or a non swimmer.

The Solar Sea Walk a company in Grand Bay has been the pioneer of this activity in Mauritius since 1989. This unique solar powered diving system sends a constant stream of pure fresh air to your helmet, thus you have the opportunity to walk feely on the seabed. The Team consists of 5 trained and experienced divers you will get to see the corals and tropical fishes, which are found in the three meter deep water of the Mauritian lagoon. Additionally you will be handed some bread, so you are able to feed or even touch the coral fishes.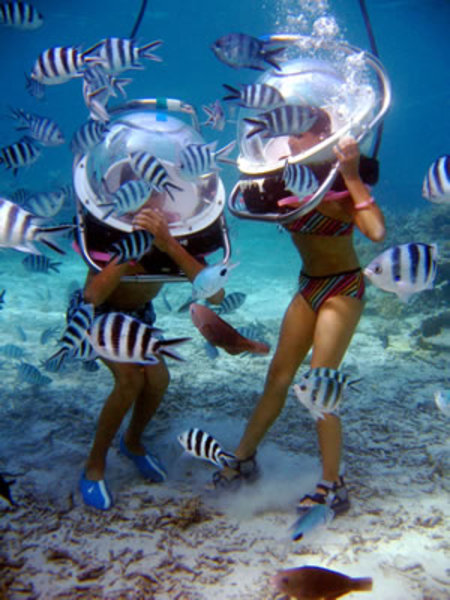 Enjoy a safe and fascinating undersea walk on the ocean bed (about 3-4m depth), This excursion begins with a motorboat transfer from the center of Grand Bay to a platform situated inside the lagoon at the North of Mauritius. Upon arrival to the platform you will receive a pre departure briefing on the gear, the local marine life, on safety procedures and on the underwater walking trail.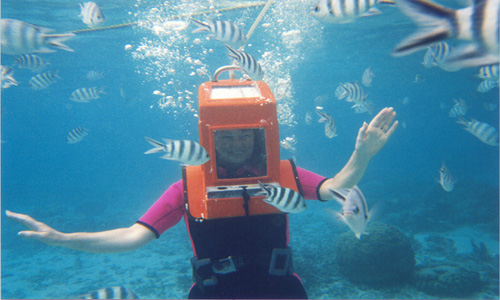 What to expect? Going for the underwater Sea Walk is like going for an underwater tour inside the reef, walking between corals, seeing variety of fish, and discovering the rich sea life

How does it work? A helmet with a transparent visor is placed on your head. A special apparatus allows normal breathing under the water. Life Guards assist in taking you underwater and accompany you throughout the walk to guarantee your maximum safety.